Autin Dance Theatre is an innovative touring dance company, established since 2013 under the helm of acclaimed choreographer & West Midlands dance leader Johnny Autin. Our mission is to inspire, educate & instigate positive social changes by delivering socially relevant, highly responsive, multi-disciplinary arts activities to communities, in theatres, outdoors and non-traditional spaces.
ADT's outreach programmes engage schools, youth centres, regional community groups  and includes an all-male youth programme.
The company is a collaborative, project-led arts organisation which has built a strong reputation and  
high levels of engagement for its unique work at local and international levels with highly acclaimed productions including A Posi+ive Life, Dystopia, Square One & more recently Out of the Deep Blue.
We draw on contemporary social issues (environment, community, relationships, sexuality and  
LGTBQ identities) to make beautifully crafted, highly accessible, engaging and relevant work.
Extraordinary Experiences
AutinDT devises small/medium-scale productions of dance theatre and tours to venues and festivals across the uk and abroad. AutinDT allies the collaborative approach in the studio to the ethos and structure of the company and is driven by five core values.  
At AutinDT we work by our five core values;
"Thought provoking, striking dance that takes on the complexities of sex and relationships in the contemporary world of teenage life" - A Posi+ive Life
Johnny Autin
Creative Director - He/Him
Johnny is an established dance leader and award-winning choreographer working mainly as a contemporary dance and physical theatre director, with over 15 years of experience with professional, community and educational dance projects.
Annalise Cowan
Associate Producer - She/Her
Originally from Birmingham, Annalise graduated from Coventry University in 2018 with a Bachelor of Arts with Honours First Class in Dance with Professional Enhancement. She joined Man Made Youth Company in 2015 as a participant and since then, has performed professionally for Birmingham Opera Company, Gaby Agis, Mercurial Dance and more recently 'sirenscrossing' by Carolyn Deby in 2019.  
Will Amott
Associate Producer - He/Him, They/Them
Bristol born, Will graduated from University of Birmingham with First Class Honours BA in English Lit and MA with Distinction in Film. Since then, they have worked across various industries, settling into the arts with a freelance practice including working for Fierce Festival, Fatt Projects, In Good Company at Derby Theatre and Beatfreeks. 
Kirsten Tranter
Learning & Participation - She/Her
Kirsten trained in Contemporary Dance at DeMontfort University leaving with a first class degree. Her early experiences saw her teaching in community and educational settings, alongside performing and making her own work. Since then she has worked in numerous roles in dance agencies Dance4 and DanceXchange.
Paulina Ozynska
Creative content designer - She/Her
Paulina is a creative content designer as well as enjoying her admin duties. She started her freelance practice after graduating from BA in Visual Communications at Birmingham City University focusing on experimental photography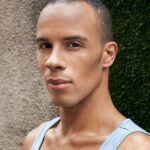 Mathew Prince Chambers
Creative Manager - He/Him
Born in Birmingham, Mathew trained at Kerrey Clarke's Adage Dance and Fitness Studios in Harborne. This is where his love for Ballet and Contemporary dance began. Mathew graduated from The Rambert School of Ballet and Contemporary Dance in 2009, and, from them, went on to work as a guest artist for Rambert Dance Company.
Click the button to meet the Autin Dance Theatre's board members.