Birmingham Based Innovative & Interdisciplinary Dance Company
Welcome to
Autin Dance Theatre
Autin Dance Theatre is an innovative touring company, established in 2013 under the helm of acclaimed choreographer & West Midlands-based Creative Director Johnny Autin. Our mission is to inspire, educate and instigate positive social changes by delivering relevant, highly responsive, multi-disciplinary arts activities to communities, in theatres, outdoors and in non-traditional spaces, and providing extensive learning and engagement programmes.
OUT OF THE DEEP BLUE is an outdoor physical theatre performance featuring a 13-foot tall Puppet operated by 5 puppeteers and a female dancer. This spectacle is designed specifically for family and festival audiences and tells the magical story of Eko, asea giant who rises from the deep ocean and who encounters, on the shore, a courageous little girl called Violet.
Dystopia is a dance theatre duet for the outdoors and unusual spaces that is performed in the round. This jaw-dropping and thought-provoking performance, is exploring the themes of our human need for connection and belonging, in opposition with our modern anxieties based on fear and violence. The piece speaks about the power balance in relationships. Striking physicality and an exciting soundscape take the audience on an intense and emotional journey. The show is ultimately a message of hope and a call for our common humanity. Featuring a fashion design twist, and acrobatics, this dance-theatre-in-the-round performance can be enjoyed by all.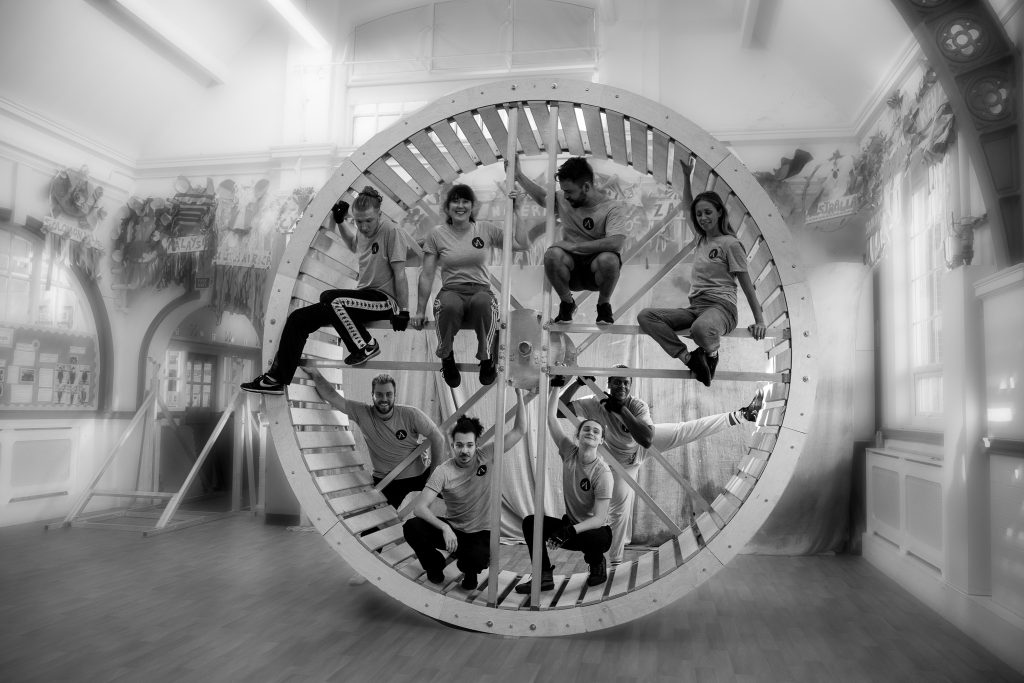 Parade is a moving performance inspired by the beauty, power and impact of people coming together from different walks of life, featuring a 15-foot tall Giant Wheel driven by 5 street artists and accompanied by live music. Autin Dance Theatre uses their unique blend of contemporary storytelling, striking physicality and innovative large designs to transport audiences and communities along a carefully choreographed procession.
Street Games In the Square
Street Games is an inclusive and accessible fun day of street games, live music and dance with BSL Performance and Interpretation. You can expect games from around the world that everyone can get involved in, hosted by fabulous Game Hosts and party music sets from EIF Sound and Music.
Supporting Autin Dance Theatre
Help support Autin Dance Theatre's projects, performances, and day-to-day operation. 
Follow Us, Never Miss A Post!
"Out of the Deep Blue brought a giant - sized touch of magic to Weston's streets.  EKO is a wonderfully dynamic puppet whose stature causes jaws to drop and eyes to roll skywards, only to be found a breath later at ground level patting a dog.  A puppet full of vitality, humor, and wonder with an important message to share.  The dance duet captivated a large audience of all ages and will I'm sure linger long in Weston's collective memory.  The company too were great to work with and interacted with the audience with genuine warmth and playfulness"
"It's great to see A Posi+ive Life create such a safe, supportive space for young people to talk and share their thoughts as part of a live performance."
"The genuinely likable trio onstage give voice to observations, feelings, and self - admissions that add up to an open - minded and activist depiction of queer pride."
Meet the Autin Dance Theatre Team